George Ward Tennis Center Programs

Junior Program Pathway (for kids from 4 through 18 years old):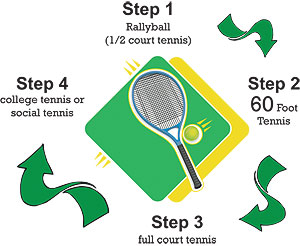 The Junior Program Pathway at George Ward Tennis Center is for kids ages four (4) through eighteen (18) years old. Classes are usually in session from February through November. Each student is evaluated upon their age and level of play and then placed within the correct Step of our program. There are four steps on the Pathway a Junior can participate in starting with Rallyball and ending with College/Social Tennis. Below is a summary of each stage of the Junior Program Pathway and our Program Schedules. Please email tenniszyx@aol.com for any additional information:

Pathway Step 1: Rallyball
Rallyball is ½ court tennis or 42 foot tennis for kids from 4 years old to 10 years old that are learning forehand and backhand. They usually play with a foam ball.

Pathway Step 2: 60 Foot Tennis
The 60 foot tennis is for kids that can do forehand, backhand, overhead, volley and serve. They also have good movement on the court and are beginning to use strategy to win games. They usually play with an orange ball.

Pathway Step 3: Full Court Tennis
Full court tennis (78 feet) is for kids that can do forehand, backhand, overhead, volley and serve. They also have good movement and can eventually learn how to open up the court for the winning shot. These kids will learn how to use at least two different types of serves. They play with green dot balls or regular tennis balls.

Pathway Step 4: College/Social Tennis
Students can continue their training at the College Level on a partial or full scholarship. In addition, they can choose to play tennis at the Social Level or USTA Team Tennis providing students meet the necessary qualifications (Please note: Colleges must apply to participate in USTA Team Tennis). Students also have opportunities to compete in challenge ladders, tournaments, and win tennis scholarships from the James Lewis Education and Tennis Foundation.

Junior Program Schedule

The junior program is in session.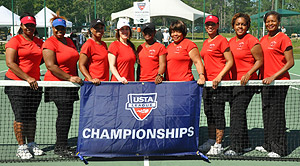 We offer adult lessons each week. We also have adult leagues for men and women, and Pickleball. These group lessons are 90 minute sessions at a discounted price. Should you need more information, please email tenniszyx@aol.com.

Adult/Junior Tennis Lessons
Saturday (9am)



Pickleball Program

Pickleball is similar to paddleball or racquet ball which combines some elements of tennis, badminton, and table tennis. The game is usually played with 2 or 4 players and the rules are similar to tennis.

Pickleball is now played on Saturday from 5:30pm to 7:00pm

Private Lessons
Private lessons are also available for all ages at the George Ward Tennis Center and are given by certified tennis instructors. If interested, please email tenniszyx@aol.com for additonal information.